… or Hero Image
Optional Equipment and Materials
1
Essential knives
Most chefs only need two or three knives to accomplish all the jobs they do in a kitchen.

A chef's knife (European-style) or gyutou (Japanese-style) is a workhorse. This is the knife you'll use the most to chop, dice, peel, smash, and even many slicing tasks. If you can only have one knife this is the one to have.

A paring knife is the second blade to have. These are for getting into hard to reach places and making quick work of any scraping or fine cutting. For some reason, these knives seem to get lost easily, so we recommend an inexpensive one.

A slicing knife (European-style), a sujihiki, or a yanagi (Japanese-style) is the knife to have for carving meat or filleting fish. The thin blade is designed to easily slip past both raw and cooked meats and seafood with almost no effort. Its length allows for one long continuous stroke for clean cuts.

As a fourth knife, some chefs like to have a long serrated knife—like a bread knife—while others don't.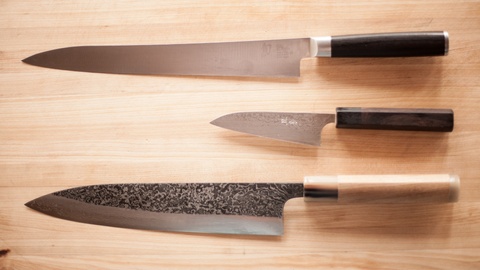 2
What money will buy
If you are going to purchase a high quality knife, the following are important factors to consider: comfort, balance, blade shape, and blade material.

Comfort really is the most important factor. For example, if you have large hands, then a bigger handle is going to feel better in your hand, but make sure that the combination of the large handle and blade shape doesn't cause your knuckles to strike the cutting board on the downward stroke.

The knife should be well balanced. Not only does this make the knife more nimble, but if you use the knife for hours on end, you'll discover how much less fatigue your hand develops compared to a clunky knife.

The metal the blade is constructed from is the final consideration. High carbon steel takes on a very sharp edge (because of its resistance to developing carbides on the cutting edge), but this is a brittle steel prone to chipping and rusting. It requires a lot of care. Stainless steel, on the other hand, is more durable, but won't hone to as sharp an edge as other steel alloys. A reputable knife shop should be willing to discuss the pros and cons of the myriad blade materials used in high-quality knives.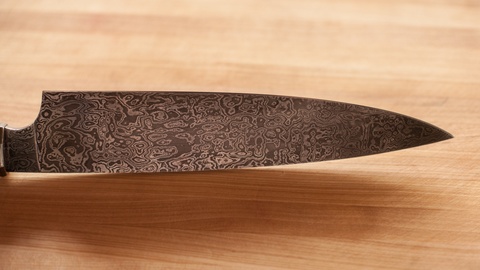 3
Get a good cutting board
Cutting boards are important. We prefer wood cutting boards for their natural antimicrobial properties, resistance to absorbing food odors, and the way they feel under the blade of a knife. Wood cutting boards are more expensive than plastic, and they require slightly more care to avoid warping.

Plastic cutting boards are less expensive, and will hold up to more abuse. But they require vigilance when it comes to cleaning because bacteria can lurk in the nicks and cuts the surface will develop over time. Softer plastics are also prone to absorbing odors from food, which can be difficult to eliminate.