… or Hero Image
Ingredient
Quantity

Pear

8

ea

Red wine

1480

g

Sugar

275

g

Cinnamon stick, whole

10

g

Nutmeg, ground

2

g

Mace, whole

3

g

Cloves, whole

4

g

Allspice

3

g
Optional Equipment and Materials
1
Ingredient
Quantity

Red wine

1480

g

Sugar

275

g

Cinnamon stick, whole

10

g

Nutmeg, ground

2

g

Mace, whole

3

g

Cloves, whole

4

g

Allspice

3

g
Combine all ingredients listed.

Reduce at a simmer to about 1/5th the starting weight.

Strain the reduction.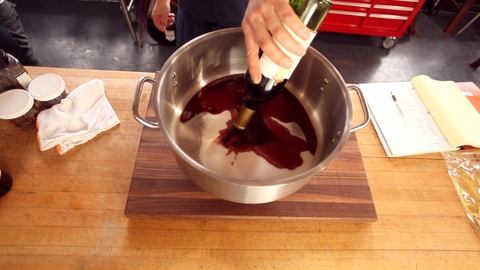 2
Tip: As you work, keep peeled pears submerge in water to stall browning.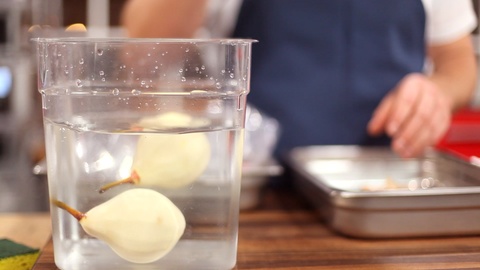 3
Rub the peeled pears with a new kitchen scrub pad to smooth out the surface of the pears. Doing this will remove the peeled appearance.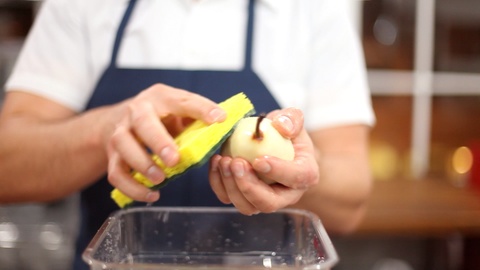 4
Place a pear into a vacuum sealing bag, and add 35 g of poaching liquid to each bag.

Vacuum pack in a chamber sealer.
Note: You can prepare the pears without a vacuum chamber sealer, but the final texture will not be quite the same.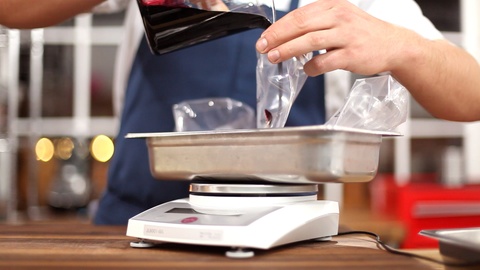 5
Cook the sealed pears sous vide at 176 °F / 80 °C for 30 minutes, or until soft to the when squeezed.

Chill pears after cooking.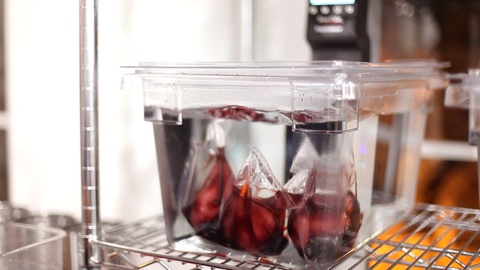 6
Clip open the vacuum packing and decant the cooking juices from the pears into a pot.

Carefully remove the pears.

Reduce the juice until it has the viscosity of a light syrup.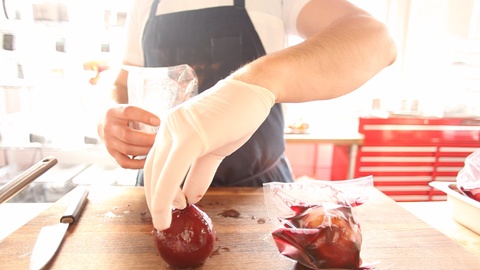 7
Cut the sous vide poached pears into slices.

Serve the sliced poached pears wither warm or cold with the reduced poaching juice.