[]
Welcome to ChefSteps
Thanks for joining. We're so glad to have you. Here are some ideas to get you started on the road to cooking smarter.
Recipe development
Follow along as we develop a recipe from start to finish. Each day, our chefs keep notes as they modify, test, and improve their recipes. Use what you learn to test our recipes and offer suggestions, or develop your own!
Classes
Drawing on our years of combined culinary experience, we create hands-on online classes about food and cooking that are both informative and entertaining. We won't tell you how to use a whipping siphon or make macarons from scratch — we'll show you.
Thanks for joining the Community!
Check your email for updates on new Recipes, Classes and more.
Cod brandade gnocchi, Cod stock, peas and morel mushroom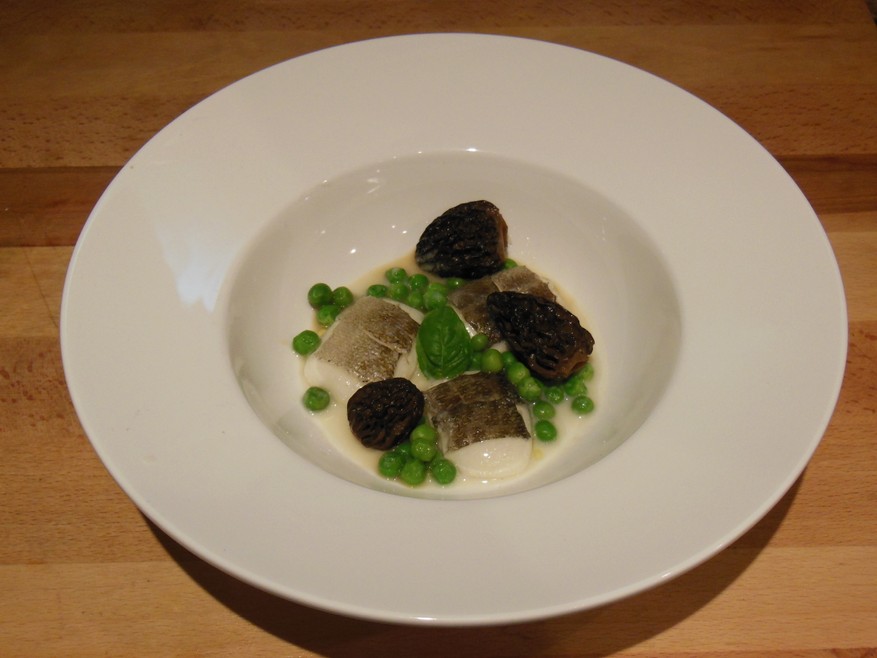 Spanish: Es un plato del chef Jordi Cruz. Una brandada tradicional con gluconolactato cálcico, hacemos una esferificación inversa, sobre ésta ponemos la piel del bacalao cocinada sous-vide a 85ºC durante 3h. Para imitar mini lomos de bacalao. El caldo está hecho con una base de puerro y cebolla, bacalao y una membrana del bacalao que se suele llamar "Tripa", pero que en realidad no lo es. Es una parte muy gelatinosa y con mucho sabor. Lo cocemos lentamente, trituramos y lo colamos. Un caldo con mucho sabor, realmente bueno. Por último, unos guisantes frescos salteados ligeramente con mantequilla y las colmenillas. ¡Gracias! Translate (Google :) ) It's a dish the chef Jordi Cruz. A traditional brandade with gluconolactate calcium, to make a reverse sferification. Above, i put cod skin cooked sous-vide at 85 ° C for 3 h. To mimic mini cod fillets. The broth is made with a base of leeks and onions, cod and cod membrane is usually called "Gut", but in reality it is not. It is a very gelatinous and flavorful. I boil slowly grind and tagged along. A flavorful broth, really good. Finally, some fresh peas sauteed lightly with butter and morels. Thank you!
---
Discussion
{"id":40,"activity_id":null,"user_id":96,"title":"Cod brandade gnocchi, Cod stock, peas and morel mushroom","image_id":"{\"url\":\"https://www.filepicker.io/api/file/rWzjtwmyRsi3ksItlred\",\"filename\":\"DSCN0055.JPG\",\"mimetype\":\"image/jpeg\",\"size\":6382742,\"key\":\"users_uploads/VmXSypiSxifbCreIWQLF_DSCN0055.JPG\",\"isWriteable\":true}","notes":"Spanish:\r\n\r\nEs un plato del chef Jordi Cruz.\r\n\r\nUna brandada tradicional con gluconolactato cálcico, hacemos una esferificación inversa, sobre ésta ponemos la piel del bacalao cocinada sous-vide a 85ºC durante 3h. Para imitar mini lomos de bacalao.\r\n\r\nEl caldo está hecho con una base de puerro y cebolla, bacalao y una membrana del bacalao que se suele llamar \"Tripa\", pero que en realidad no lo es. Es una parte muy gelatinosa y con mucho sabor. Lo cocemos lentamente, trituramos y lo colamos. Un caldo con mucho sabor, realmente bueno.\r\n\r\nPor último, unos guisantes frescos salteados ligeramente con mantequilla y las colmenillas.\r\n\r\n¡Gracias!\r\n\r\nTranslate (Google :) )\r\n\r\nIt's a dish the chef Jordi Cruz.\r\n\r\nA traditional brandade with gluconolactate calcium, to make a reverse sferification. Above, i put cod skin cooked sous-vide at 85 ° C for 3 h. To mimic mini cod fillets.\r\n\r\nThe broth is made with a base of leeks and onions, cod and cod membrane is usually called \"Gut\", but in reality it is not. It is a very gelatinous and flavorful. I boil slowly grind and tagged along. A flavorful broth, really good.\r\n\r\nFinally, some fresh peas sauteed lightly with butter and morels.\r\n\r\nThank you!","created_at":"2013-07-13T19:02:00.546Z","updated_at":"2013-12-08T08:28:03.111Z","course_id":null,"approved":true,"likes_count":2,"slug":"cod-brandade-gnocchi-cod-stock-peas-and-morel-mushroom","comments_count":0,"assembly_id":39}