[]
Welcome to ChefSteps
Thanks for joining. We're so glad to have you. Here are some ideas to get you started on the road to cooking smarter.
Recipe development
Follow along as we develop a recipe from start to finish. Each day, our chefs keep notes as they modify, test, and improve their recipes. Use what you learn to test our recipes and offer suggestions, or develop your own!
Classes
Drawing on our years of combined culinary experience, we create hands-on online classes about food and cooking that are both informative and entertaining. We won't tell you how to use a whipping siphon or make macarons from scratch — we'll show you.
Thanks for joining the Community!
Check your email for updates on new Recipes, Classes and more.
Lettuce & Pea Soup Spheres with Feta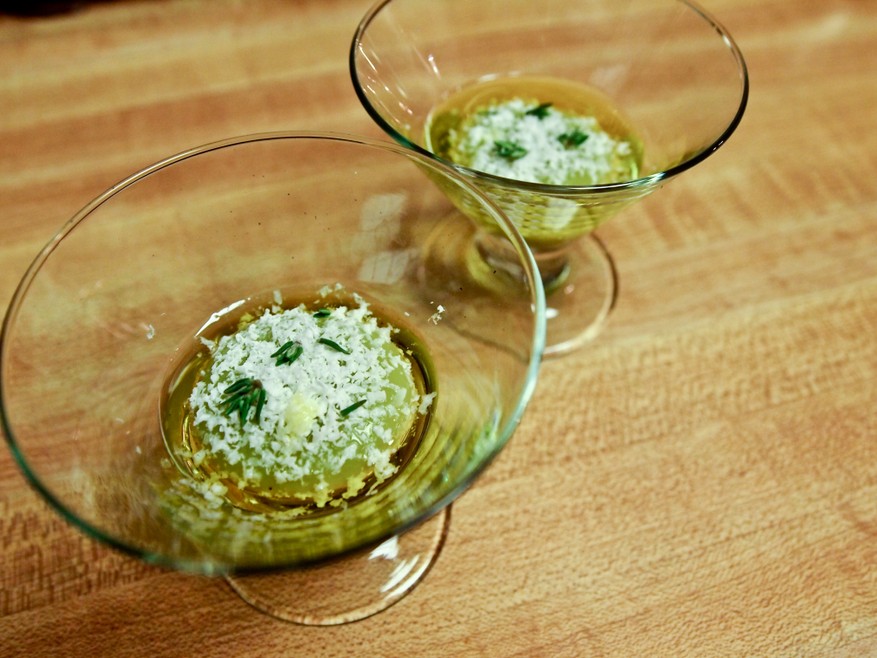 75g Bibb lettuce 175g Romaine Hearts 250g Frozen English Peas 375g Chicken Stock 70g Vidalia Onion 20g Champagne Vinegar 5g Clover Honey 1g Garlic Salt and Pepper to taste Sautee onions and garlic over medium heat until just about to brown. Turn up heat and add lettuces and sautee for 2-3 minutes. Add stock, vinegar, and honey and braise lettuce until very tender. Add peas to thaw before pureeing mix in blender. Taste to season with salt and pepper. Strain through fine sieve and cheese cloth to clarify. Add 2% calcium lactate and disperse thoroughly. Pull a strong vacuum on mix in a deep shallow dish to remove air bubbles (repeat if needed) After creating spheres, finish plating with a drizzle of extra virgin olive oil and shaved frozen feta cheese. Top with young thin tips of thyme leaves. Serve cold.
---
Discussion
{"id":5,"activity_id":null,"user_id":832,"title":"Lettuce \u0026 Pea Soup Spheres with Feta ","image_id":"{\"url\":\"https://www.filepicker.io/api/file/imI58ytRRlGXVBjfPHfP\",\"filename\":\"Lettuce and Pea Soup Spheres 2.jpg\",\"mimetype\":\"image/jpeg\",\"size\":7922458,\"key\":\"users_uploads/foSTtfXQWeGGh0XdSbKN_Lettuce and Pea Soup Spheres 2.jpg\",\"isWriteable\":true}","notes":"75g Bibb lettuce\r\n175g Romaine Hearts\r\n250g Frozen English Peas\r\n375g Chicken Stock\r\n70g Vidalia Onion\r\n20g Champagne Vinegar\r\n5g Clover Honey\r\n1g Garlic\r\nSalt and Pepper to taste\r\n\r\nSautee onions and garlic over medium heat until just about to brown. Turn up heat and add lettuces and sautee for 2-3 minutes. Add stock, vinegar, and honey and braise lettuce until very tender. Add peas to thaw before pureeing mix in blender. Taste to season with salt and pepper.\r\n\r\nStrain through fine sieve and cheese cloth to clarify. Add 2% calcium lactate and disperse thoroughly. Pull a strong vacuum on mix in a deep shallow dish to remove air bubbles (repeat if needed)\r\n\r\nAfter creating spheres, finish plating with a drizzle of extra virgin olive oil and shaved frozen feta cheese. Top with young thin tips of thyme leaves. Serve cold.","created_at":"2013-06-04T23:43:54.918Z","updated_at":"2013-12-08T08:28:03.048Z","course_id":null,"approved":true,"likes_count":5,"slug":"lettuce-pea-soup-spheres-with-feta","comments_count":0,"assembly_id":39}